The Band
Bram en Jeroen founded Monomad in the local scene around Ghent in 2012, where they made a first impression in small clubs. A year later, Jeroen meets singer-bass player Valdis at Graspop Metal Meeting. They became friends and their communal music taste and backgrounds lead them to the conclusion that Valdis could be a valuable contribution to Monomad. Soon he started jamming with the band, preparing for their already planned gigs. In 2013 and 2014 they won some competitions and because of this they got to record a first studio single: Proletarian, released through Bandcamp. That same summer Monomad got the chance of performing at Manifiesta 2014. The festival made more people aware of the phenomenon that is Monomad, and made Monomad aware of the existence of bigger crowds. Therefore, in 2015 they rounded up the funds to record their debute album. After several months of recording and mixing at Midas Studios, the album 'The Art of the Broken Mind' was released February 6, 2016 on a big release party in Lokeren, Belgium. This was followed by a tour in Belgium and The Netherlands, attending some legendary clubs and festivals, like Kinkystar, B52, Twilight and Occultfest 2016.
Monomad will tour again in Spring 2017, follow the trip!
Valdis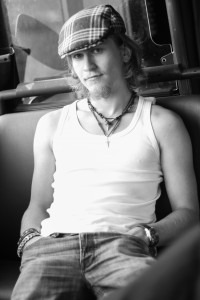 This weirdo doesn't bite, but he embodies the Monomad concept on stage. He knows how to blend in his electronics with Jeroen's guitars: shaken, not stirred. He likes to talk politics. He is also a lazy ass motherfucker with great musical skills.
Bram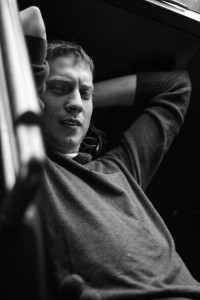 Early bird: has been jamming with the band since pre-Monomad days. Earned his stripes with his no-nonsense mentality. Works hard and practices hard to make the band a success. Pulls the online community. If you're lucky you might just meet him in the cloud.
Jeroen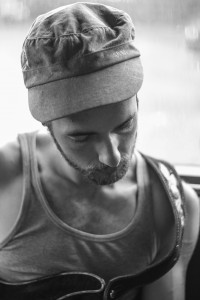 The demiurge, leading the band since it's uprising against commonly acknowledged music and ideas. Also awarded for "most silly suggestions" (though he refers to it as "thinking outside the box"). He likes to blend psychedelic melodies into a mix of progressive death, sludge and mid-tempo doom. Yeah he likes to do just that. Be warned.
Come have a talk with us after the show. We love to hang around and discuss the things we love.
Goat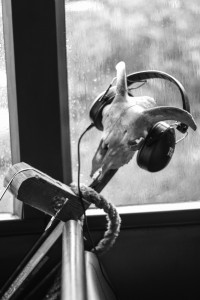 Is it a… yeah, so what's up with that? We get that question a LOT. So here's a brief history: As Valdis didn't want to bother himself too much with instruments on stage, Jeroen decided he should at least have something to jam with. So the band went on a journey to craft an instrument that would suit Valdis well. First thing we found was a hokeystick. The initial cat skull was quickly replaced by a goat's, some electronics added. Last but not least we put some magic crap on it: the Goat was born. It has been the band's iconic feature ever since.